Hanoi City Tour
AM: 8.30 bezoek Ho Chi Minh Mausoleum, Museum, pagode met één pilaar, stiltehuis & tuin van oom Ho. Bezoek de Tempel van de Literatuur, West Lake. Lunch.
PM: Bezoek de Tran Quoc-pagode, reis rond het meer, Museum van etnische minderheid. Terug naar je hotel om 16.30 uur.
NOTITIE:
- Op ma en vrij: mausoleum van Ho Chi Minh, museum gesloten. Zie in plaats daarvan Art & Army-musea.
- Cyclo-tour beschikbaar op aanvraag.
- Wear Pan & shirt zal worden geadviseerd.
- Waterpoppenticket ($ 6 / ticket meer) indien beschikbaar.
INBEGREPEN:
Vervoer, tickets, lunch en gids, toegangsprijs.
Standaard prijs:
$ 40 / pax
? Stadstour
? Zondagochtendwandeling: $ 1
? Eten te voet Tour Hanoi: $ 25
? Eiffeltoren fietstocht Hanoi: $ 50
Halong Bay Tour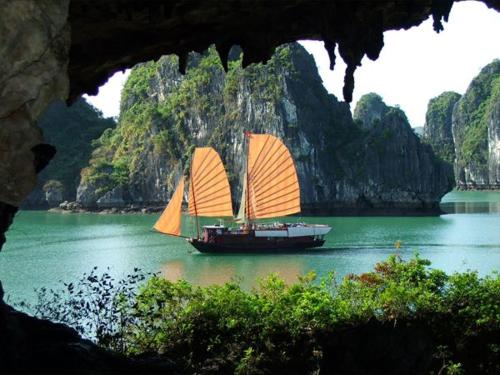 DAGELIJKS VERTREK
Retour Shuttlebusdienst.
Ophalen / afzetten bij je hotel in Hanoi.
Vertrek: 07.45 uur - 8.00 uur
INBEGREPEN
? Welkomstdrankje
? Toegangs- en bezichtigingskosten
? Engelssprekende gids
? Luxe hutten en suites met A / C en eigen badkamers
? Deluxe Vietnamese en internationale ontbijt, lunch en diner
? Conferentie-uitrusting (alleen charter)
? Verzekering, belastingen en servicekosten
UITGESLOTEN
? Vliegtickets, autovervoer en hotels
? Visumregelingen
? Massagediensten
? Kajakken
? Dranken, tips en persoonlijke uitgaven
OPMERKINGEN
? Tijden van activiteiten kunnen enigszins variëren. Reisplan en programma kunnen indien nodig worden gewijzigd.
? Geavanceerde reservering is vereist met volledige passagiersgegevens, inclusief volledige naam, geboortedatum, nationaliteit, paspoortnummer, vervaldatum, enz.
? Een geldig paspoort is vereist bij het inchecken aan boord.
? Er geldt een toeslag van 25% voor cruises met Kerstmis, Nieuwjaar en Tet Holidays.
? Gratis voor kinderen jonger dan 5 jaar, die een hut delen met de ouders, beperkt tot één kind per hut.
? Belangrijke creditcards worden aan boord geaccepteerd.
Hoa Lu Tam Coc Tour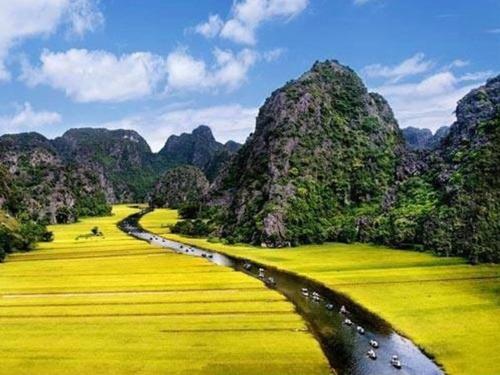 AM: Vertrek om 8.30 uur naar Tam Coc (meer dan 100 km van Hanoi). Neem de roeiboot om de bergen en grotten (Three Grottos) te bezoeken die beschouwd worden als "in land Ha Long Bay". Lunch in het restaurant.
PM: Bezoek Hoa Lu: Dinh, Le King's Temples en de archeologisch ontdekte fundering van het Koninklijk Paleis. Keer terug naar Hanoi om 18.30 uur.
Inclusief: vervoer, entreegelden, boottocht, lunch en gids.
Standaard prijs:
$ 40 / pax
Perfume Pagoda Tour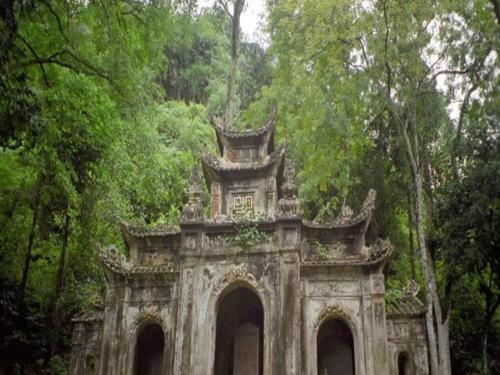 Depart at 8:30am
2hrs road trip to Ben Duc. 1,5 hrs rowing boat on Yen Stream to Thien tru Pagoda, 1hrs trekking up to the Huong Tich - the main cave. 1 hour go down. Lunch in the restaurant.
Visit Thien Tru Pagoda. 1hour boat trip. Back to Ben Duc and bus trip back to Hanoi.
Arrive in Hanoi 6pm.
INCLUDING:
Transport, Entrance fee, Boat trip, Lunch and Tour-guide.
NOTE:
good shoes, long trousers, sun glasses are needed. Small tip for boat-rower is highly recommended.
Standard Price:
$40 /pax
Hanoi Traditional Villages Tour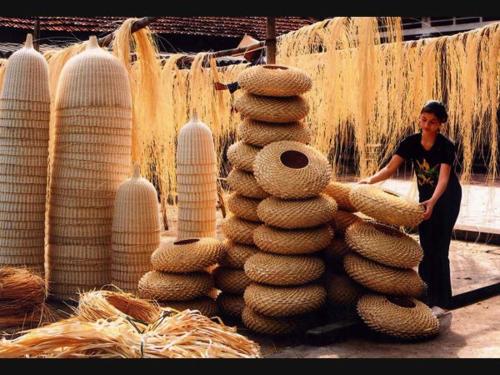 08.00
Pick up guests at hotel then transfer to Duong Lam ancient village 50km away from Hanoi. Stopover on the way to visit Son Dong traditional sculpture village. The Son Dong wooden statues are displayed in many pagodas and communal houses in the Northern provinces. Continue driving to Duong Lam, visit village gate, Mong Phu communal house, some ancient houses , Giang Van Minh worship-house, Princess Mia Palace and Temple, Mia pagoda and enjoy local products: rice wine, rice cake.
12.30
Lunch at the Hoa Sua restaurant by Son Tay ancient citadel. Free time for visiting ancient citadel.
13.30
Transfer back to Hanoi. On the way, stop to visit Tay Phuong pagoda - the best example of old typical pagoda in the northern of Vietnam, special with Arhan statue, Van Phuc silk village, experience the process of making silk and conical hats.
Highlights
• Son Dong traditional sculpture village
• Duong Lam ancient village: Mong Phu communal house, ancient house
• Princess Mia Palace and Temple, Mia pagoda, Son Tay ancient citadel
• Tay Phuong pagoda
• Van Phuc silk village
Inclusive
• Private air conditioned car, van or bus
• Lunch
• All sightseeing fee and transfer services as detailed in our itinerary
• English speaking guide
Exclusive
• All other services not mentioned in our itinerary
• Beverages
• Tip & Personal expense
Standard Price:
$40 /pax
Sapa Tour
ITINERARY:
Day 1: On board the train Hanoi - Day 1: On board the train Hanoi - Lao Cai (-,-,-)
Night train to Lao Cai from Hanoi.
Day 2: Lao Cai - Sapa (B,L,D)
Arrival early in Lao Cai. Transfer to Sapa and on to hotel. Have breakfast upon arrival. Trek to the villages of Red Dzao and Black H'mong. Picnic lunch. Dinner and overnight at the hotel.
Day 3: Sapa - Lao Cai - Hanoi (B,-,-)
You will have breakfast at the hotel you will have time at your leisure at the hotel or visit Sapa Town with the attractive minority market. At 17h30 you will take the shuttle bus to Lao Cai for the night train back to Hanoi.
Day 4: Arrival in Hanoi (-,-,-)
The train will arrive in Hanoi around 5.00 am. End of trip.
Victoria (Luxury)
Topas (Luxury)
Chau Long (Deluxe)
Inclusive:
• 1 night at Topas Ecolodge (Deluxe bungalow)
• All indicated meals (B as breakfast, L as lunch, D as dinner)
• Transfer by Shuttle Bus Lao Cai – Sapa – Lao Cai
• Trekking as indicated (tickets and tourguide)
• Return soft sleeper in 4-berth cabin on the train Hanoi – Lao Cai - Hanoi
Exclusive:
• Insurance.
• Pre and post trip accommodation.
• Private expenses.
• Drinks and Beverage.
• All other services not mentioned as inclusive.
Cooking Tour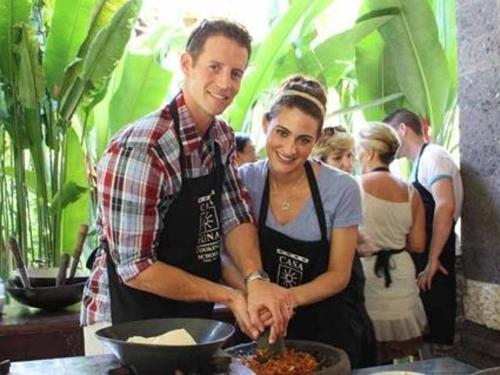 HOME COOKING TOUR HANOI: $35
Awesome Homestay has large home, located nearby Red River bank and takes around 5 minutes by Taxi, there is a spacious kitchen for you to cook and ideal dinning place as well as quite and wonderful view to see the river and Eiffel Bridge (1902).
Home Cooking Tour Hanoi*
"Cooking time from 9.00- 13.00 "Lunch" or 16.00 to 20.00 "Dinner"
At 9.00/ or 16.00, our tour guide will pick up at your hotel in old quarter and drive 5 minutes you to the traditional market (wet market) where you will be fascinated by the colors, noise and the smells of the foods. Strolling around market will help you discovery a variety of herbs, vegetables, meat and seafood and brings you very close to the simple life.
It is very interesting to see and to learn how a local woman chooses and buys the best quality of the fresh food from numerous food stalls in the market. With a rattan hand basket, your job is to buy some herbs and spices for the cooking tour (Herbs and spices are a very important part of authentic Vietnamese food). Raw food bought from the market will be washed and prepared quickly in the kitchen. Cooking methods and utensils will be placed properly on each table.
You will prepare and cook by yourself under the instruction of the tour guide from the beginning to the end, learning how to marinate and to spice will be the most crucial lesson. You will also enjoy decorating dishes with carrot flowers, lemon grass stems, banana leaves and curved chili.The authentic magical sauce mixed from fish sauce, water, sugar, lime, chili, garlic and herbs is very easy to make.
Around 12.00 /or 19.00, Enjoy your meal in the ideal eating place with wonderful view of Red River and Eiffel bridge, was built in 1902 by the French architect Gustave Eiffel.
Around 13.00/ or 20.00, our tour guide will transfer you back your hotel and give you recipe if you want, see you again!
* Suggested Menu (or customize your desires)
- Green papaya salad (or Banana flower salad)
- Fried spring rolls (Nem Ran)
- Steamed rice paper- roll pancake (Banh Cuon)
- Stir fried chicken with lemon grass (or Beef/ Fish/ Pork)
- Fried Vegetable (seasonal)
- Flower garnish or fruits carving
- Dessert (seasonal)
*Standard class included:
- Pick up hotel in old quarter with round trip.
- Local expert, shopping in wet market,
- Home cook & eating with hosts,
- Free drinks (fresh fruits, Hanoi beer, coffee, local wine....)
- Optional with 10 minutes biking to market.
*Superior class included:
- Standard class
- Cyclo riding "20 minutes"
*Excluded: Tips for any good services, not compulsory (your appreciation).
What is different between Group Joining Tour & Private Tour.
+ Group Joining Tour,
- You will join with other guests, and has maximum 8 guests on cooking class, sometimes less or full, depends each day.
+ Private Tour
- You will have your own tour (customize your time and food requirement), it is not sharing with other guests.
Enjoy your time with us!
Cooking Class
HANOI BOUTIQUE COOKING CLASS
Vietnamese cuisine was influenced by the long association of Vietnam with Chinese rule, French colonialism, the incursions of South-East Asia and its fierce individuality.
Veritable immersion in local culture, the experience starts with a stroll in the local market accompanied by the Hanoi Boutique Chef, to discover Vietnamese ingredients, their flavours and their secrets. This is followed by a cookery demonstration in the hotel kitchen where everyone plays an active role. After class, lunch is served in the Hanoi Boutique restaurant to sample the different dishes prepared during the demonstration.
Program:
10:00-11:00 am: Meet with hotel chef and visit market
11:00-12:30 pm: Cooking demonstration and practice
12:30-14:00 pm: Lunch at HanoiBoutique Restaurant
Standard Price:$32 /pax